The government through the Finance minister Ken Ofori-Atta has announced move to reintroduce road toll collection.
This was contained in the 2023 budget statement presented by Mr Ken Ofori-Atta on Thursday November 24.
"The fiscal policy measures to underpin the 2023 Budget for consideration and approval by Parliament include the reintroduction of tolls on selected public roads and highways with a renewed focus on leveraging technology in the collection to address the inefficiencies characterized by the previous toll collection regime," paragraph 462 of the 2023 Budget statement reads.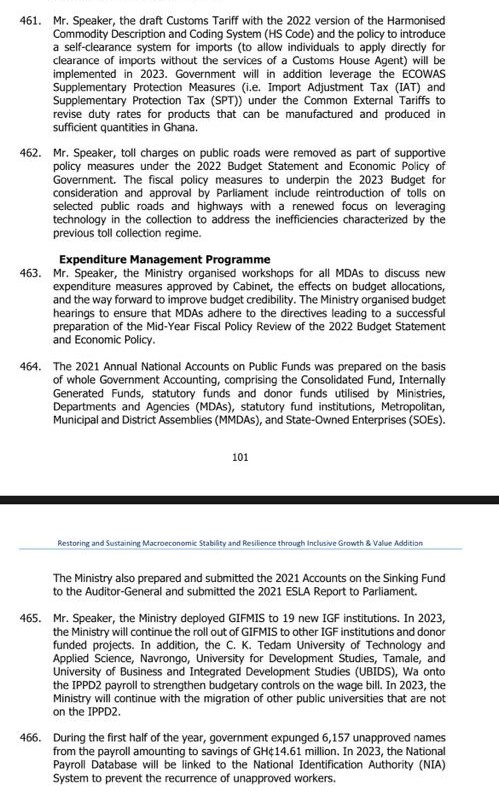 Mr Ofori-Atta announced the cancellation of the tolls in the 20922 bydget.
"To address these challenges, Government has abolished all tolls on public roads and bridges. This takes effect immediately the Budget is approved (after appropriation or now?). The toll collection personnel will be reassigned. The expected impact on
productivity and reduced environmental pollution will more than off-set the revenue forgone by removing the tolls," he aid.
But toll workers asked the government to reintroduce the collection.
"This has brought untold hardship to our members, especially, in these difficult economic times," a statement they issued on Thursday November 17 said.
"We have said this countless number of times, and we still stand by it, that the reason given by the Hon Finance Minister for which toll collection was zero rated is not strong enough grounds that should cause about 800 of the Citizens to lose their Jobs and Livelihood in this manner.
"We also wish to emphatically state that, we have not been paid off contrary to rumors flying around in Government circles.
"We therefore call on Government as a matter of urgency, to Re-Introduce Toll Collection and recall all of us who lost our livelihoods by this action back to work so we can live in dignity and also contribute our quota to national development.
"We would also like to use this opportunity to call on Civil Society including our Revered Chiefs and Religious Leaders of all faiths, to impress upon the Government to restore our dignity back by reinstating us," the statement said.
By Laud Nartey|3news.com|Ghana