State of emergency declared in US city
The North Carolina governor has declared a state of emergency in the city of Charlotte, as unrest continues over the police killing of a black man.
Violence erupted for a second night after Keith Lamont Scott was shot dead by a black officer on Tuesday.
One protester is in a critical condition after a "civilian on civilian" shooting, the city said.
Mr Scott was the third black man killed by police in a week. Such shootings have sparked huge protests recently.
Riot police in Charlotte used tear gas as they faced hundreds of protesters. The local police department said four officers were injured.
Earlier North Carolina Governor Pat McCrory said he had "initiated efforts" to deploy the national guard and highway patrol to help deal with the protests.
"Any violence directed toward our citizens or police officers or destruction of property should not be tolerated," he said.
The demonstrators are angry that Mr Scott, 43, was killed by police on Tuesday afternoon at a block of flats in disputed circumstances.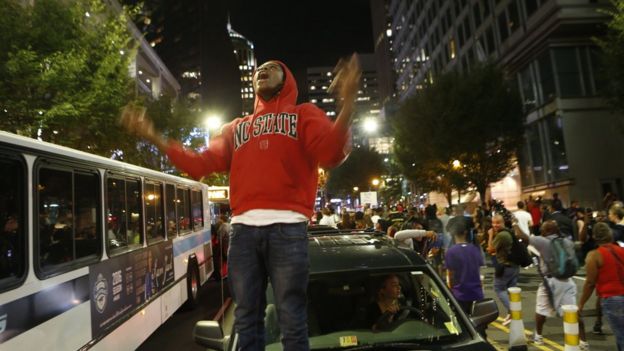 Source: BBC