Spaniards have made the most of the latest easing of the national lockdown, as they have taken to the streets in droves since early this morning.
The lifting of the restrictions on exercise for adults has meant that thousands of joggers, walkers and cyclists have been able to go out purely for leisure in Madrid and other cities for the first time in seven weeks.
In many areas, the large numbers who took to the streets made it look almost like a normal Saturday morning, apart from the fact that social distancing was observed and few cars were on the roads.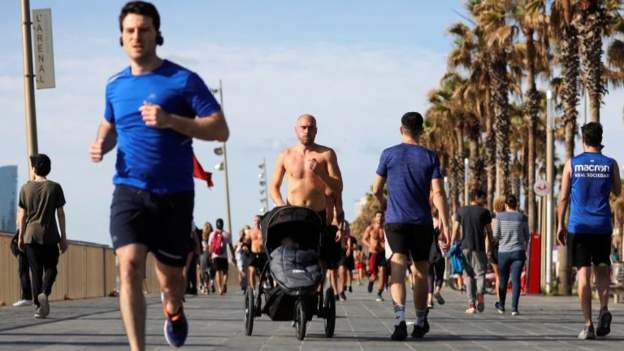 Other sports were also practised. In the southern province of Cádiz, surfers have returned to the water this morning, although regular swimming remains prohibited.
Some, however, remain reluctant to venture out.
"I want to go out because it's a beautiful day," said Carmen Pérez, a 65-year-old in Madrid. "But I'm a bit scared of getting infected."
Confirmed cases in Spain rose by 1,366 on Saturday to 216,582 with the number of deaths up by 276 to 25,100.
Source: BBC