<![CDATA[[caption id="attachment_97977" align="aligncenter" width="660"]
Photo: AFP[/caption]
South Africa's police minister Bheki Cele has said a surge in murders has turned his country into a place that "borders on a war zone."
"Our bottom line is that this situation must reverse," he said. Crime statistics released by the government show there were more than 20,000 murders in 2017, a 7% increase over the previous year. The minister highlighted that this was 57 murders every day. But was he right to compare South Africa to a war zone? The murder rate, which takes into account a country's population, is a good way to show the scale of the deaths. Nationally the figures paint a pretty grim picture. In South Africa last year there were 35.8 murders per 100,000 people. In the last five years there's been an increase after more than a decade of decline. However, the murder rate was 
twice as high in 1993
, the year before apartheid ended. We'll take a look at where murder rates are worst within South Africa in a moment, but first, how does the country compare with others around the world?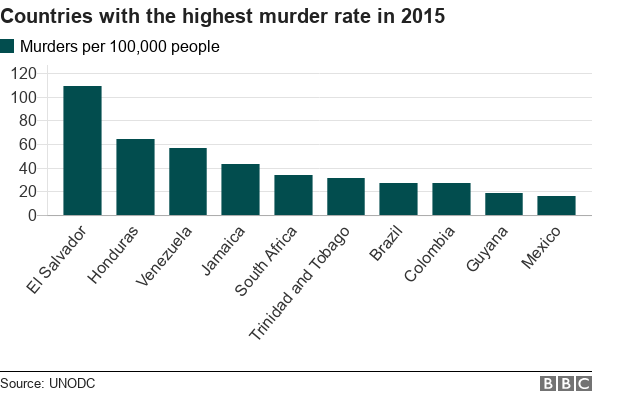 South Africa had the fifth highest murder rate in the world in 2015, according to the UNODC's most recent data. It is higher in South Africa than in other countries on the continent with similarly sized economies. There were 2,751 murders in Kenya in 2016, according to recent police statistics. Using the World Bank's population estimate, the murder rate in Kenya was 5.7 per 100,000 people. In Nigeria in 2015 there were 9.79 murders per 100,000 people. Further afield in Brazil, the murder rate in 2017 was 30.8 per 100,000 people, according to one 
recent study
. The UNODC notes that some countries have different legal definitions for offences, and different methods of counting and reporting crimes. There may also be significant differences in the levels of the reporting to the police and statistical authorities.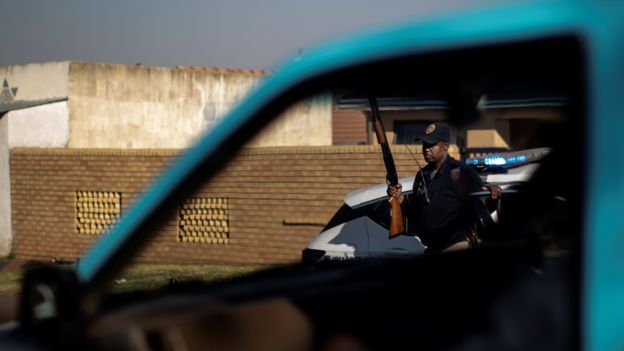 The International Institute for Strategic Studies' (IISS) Armed Conflict Survey counts conflict-related deaths – this excludes murders outside of the conflict. It also includes victims of terror attacks where the perpetrators of the attack are part of a conflict. So to test the police minister's claim, one could look at murders in South Africa alongside figures for conflict-related killings. These figures aren't directly comparable but do provide a useful indictor of the scale of South Africa's murder rate.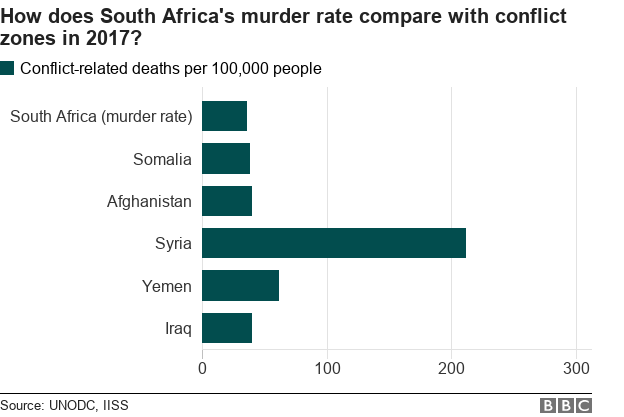 We haven't added the number of murders in war zones to the figures for conflict-related because there may be an overlap in the statistics, or a lack of reporting. We have estimated the overall rate for each country using the World Bank's population figures. This measure gives an indication of the extent to which the whole country is affected by conflict. But one would expect the rate to be much higher in specific war zones. In Somalia, where government troops backed by the African Union are fighting al-Shabab militants, the IISS recorded 5,500 conflict-related deaths in 2017, which is a rate of 38.4 per 100,000 people. That's higher than South Africa, even excluding homicides. For Afghanistan, there were 14,000 deaths last year in the conflict between insurgent groups and pro-government forces. That's a rate of 40.4. IISS uses the Syrian Observatory for Human Rights' death toll figure for the Syrian conflict, which reported 39,000 deaths in 2017. That's equivalent to 212 per 100,000 people. In Yemen there were 17,000 deaths – a rate of 61.6. In Iraq, there were 15,000 conflict-related deaths – a rate of 40.3. So while the overall murder rate in South Africa is very high, the level of killing is lower than in all the conflict-affected countries considered here, even without taking into account non-conflict related murders in those countries.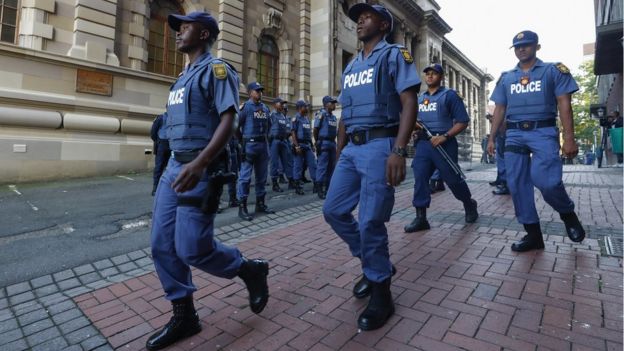 But it's also worth looking at areas of high violent crime within South Africa, some with very high murder rates indeed. There are 1,144 police station precincts across the country and 20% of all the murders were recorded at just 30 stations, according to the South African police service. Last year, half of all murders were recorded at only 13% of stations. According to ISS' Crime Hub, several precincts have a murder rate estimated at more than 100 per 100,000. That's higher than in most of the war zones considered above. In Philippi East, a township of Cape Town, the rate was estimated at 323.4 per 100,000. It was 214.52 in Madeira in the Eastern Cape province and 177.3 at Pietermaritzburg's central city station in KwaZulu-Natal.
Source: BBC
]]>