<![CDATA[
Four people, including two firefighters, have been killed after an explosion caused a huge fire at a bakery in the French capital, Paris, officials say.
Cars were wrecked and other buildings were damaged by the blast on Rue de Trévise in the 9th Arrondissement. A gas leak is said to have caused the explosion around 09:00 (08:00 GMT). Paris and other cities have been bracing themselves for new anti-government protests. Some 80,000 police officers due to be on duty on Saturday as "yellow vest" demonstrators keep up their pressure protest, even though the Paris explosion is not thought to be connected with the demonstrations. In the immediate aftermath, smashed cars and debris from other shop fronts littered the street in front of the burning bakery as people stood around, looking stunned by the force of the explosion. Visiting the scene,
Interior Minister Christophe Castaner
said the situation was now under control.
What happened?
The Hubert bakery at No 6 Rue de Trévise was not due to be open at the time of the blast, Le Parisien newspaper reports. A gas leak had been reported in the building and firefighters had been on their way to deal with it when the explosion occurred. Helicopters landed on the nearby Place de l'Opéra to evacuate the injured, Reuters news agency reports. A passing journalist, Emily Molli, described the force of the blast and vast extent of the damage. A resident named Killian was asleep when the explosion blew in his windows. Everybody in the building came downstairs, he said, and he could hear screaming. The blast also destroyed a theatre, he told French news channel BFMTV. "I was sleeping and woke up by the blast wave," Claire Sallavuard told AFP news agency. "All the windows in the apartment exploded, doors were blown off their hinges, I had to walk on the door to leave the room, all the kids were panicking, they couldn't get out of their room." Paula Nagui, a receptionist at the nearby Diva Hotel, said there had been an "enormous blast" that shattered all the windows. Anxious guests had received assurances that it was not a terror attack, she told Le Parisien.
Why such heavy security for the protests?
For the ninth Saturday in a row, demonstrators are turning out to criticise the government's policies in a mass phenomenon which began with a protest over tax on vehicle fuel on 17 November. Called the "yellow vests" because of the colour of the high-visibility vests they wear symbolically, they have disrupted traffic on roads and in towns across France, and their marches have descended into some of the worst rioting France has seen in decades. Yellow vests could be seen gathering outside the finance ministry in Paris on Saturday.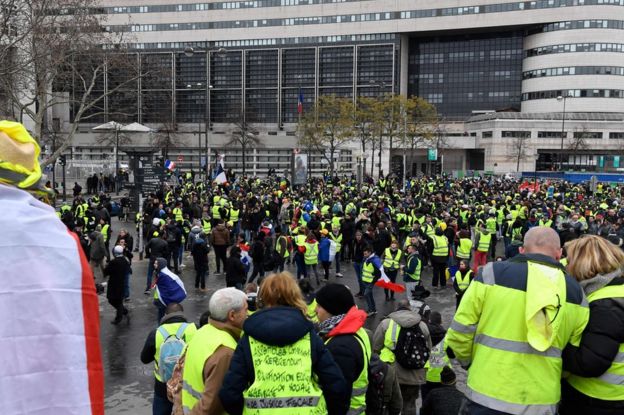 Prime Minister Edouard Philippe recently announced plans to punish people who hold unsanctioned protests. Ten deaths have been linked to the unrest, all but one in traffic accidents, the tenth being an elderly woman hit in the face by a tear gas grenade in her flat in Marseille. More than 1,500 people among the demonstrators have been injured, 53 of them seriously. Nearly 1,100 members of the security forces were also hurt, French TV reported on 5 January. As of 6 January, 5,339 people had been taken into custody and 152 had been sent to prison, the justice ministry told L'Express newspaper. ]]>