Sports
Messi not dictating tactics – Argentina's coach
Lionel Messi is not dictating Argentina's team selection and tactics, manager Jorge Sampaoli said before Saturday's World Cup tie with France.
Sampaoli reportedly asked Messi whether he should bring on Sergio Aguero in their eventual 2-1 victory over Nigeria in the decisive group game.
Video footage showed Sampaoli and Messi in pitch-side dialogue, before substitute Aguero was introduced.
However, Sampaoli said the conversation was "not how it was characterised".
Speaking before the last-16 match in Kazan, he added: "We looked at different options in an important game and had to make a decision.
"I was simply communicating this, saying we were going to use a strategy we had rehearsed to use more attacking players.
"It was a simple exchange I had with one of my players, that is all."
'We'll play with a knife between our teeth'
Having followed a 1-1 draw against Iceland in their opening game with a 3-0 defeat by Croatia in their second, Argentina went into their final group fixture against Nigeria needing to win, while relying on results elsewhere.
As Iceland lost 2-1 to Croatia, Marcos Rojo's 86th-minute volley sent Argentina through as runners-up at Nigeria's expense.
Sampaoli said his team would summon more aggression against France, one of the favourites to win the tournament in Russia.
"We'll play with a knife between our teeth," he said.
"This group of players takes enormous pride in representing their country, playing for the shirt. That makes us dangerous for any opponent.
"After the game, the analysis will follow the result. They'll say I'm an excellent manager if we win, if we lose they'll say I'm very bad."
'Each pass could be our last'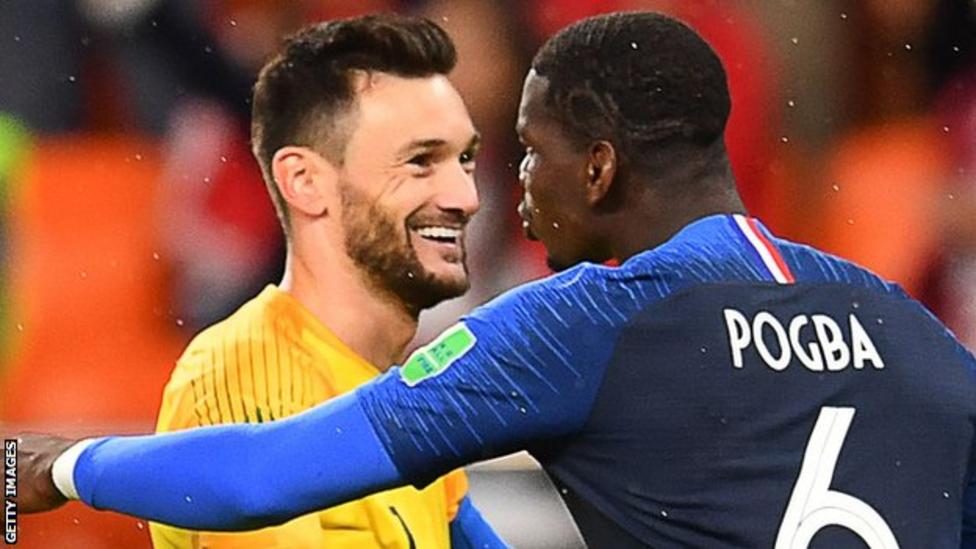 France goalkeeper Hugo Lloris said his team will have to "go beyond our limits" to defeat Argentina and progress to the quarter-finals.
Didier Deschamps' side enjoyed a much more comfortable passage to the knockout stage compared to their rivals, finishing top of Group C on the strength of two victories: 2-1 over Australia and 1-0 against Peru.
However, their final performance, a dull 0-0 draw with group runners-up Denmark, was strongly criticised, with newspaper L'Equipe describing it as "distressing and disrespectful".
"This is going to be a difficult match, we are going to have to step up our level," Lloris said.
"We have to be full of energy, bet on our collective solidity and use it all," he added.
"We should make all of the effort possible and leave the pitch without regretting anything because each pass, kick or throw-in may be the last in the competition."
BBC