<![CDATA[
Glasgow's world-renowned School of Art has been gutted by another huge blaze, four years after part of the building was destroyed by fire.
Flames ripped through the celebrated Mackintosh building after it caught fire at around 23:20 BST on Friday. The blaze has spread to nearby buildings, including the Campus nightclub and O2 ABC music venue, which suffered "extensive damage". No casualties have been reported, the Scottish Fire and Rescue Service said. Efforts to bring the fires under control are expected to be "prolonged", Deputy Chief Officer Iain Bushell said. More than 120 firefighters have been sent to the scene and are faced with "an extremely challenging and complex incident", he added. Scottish Fire and Rescue Service deputy assistant Peter Heath said "pockets of fire" remain, but were under control. He said the School of Art building had been "extensively damaged" and that all floors were affected. "We remain firefighting in what is a very challenging situation," he added. Inspector Catherine McNally, of Police Scotland, praised the response of both the public and nearby licensed premises which were asked to evacuate. The Mackintosh building was
badly damaged by fire in May 2014
and was due to re-open next year following a £20 -35m restoration project. Ben, an eyewitness, told the BBC the latest fire looked "much worse" than the previous one. "This is a blaze, the building is just going up like a tinderbox. It's quite shocking," he said. Connor Neil, 22, said people were being evacuated from their homes and there was a "big orange light" which could be seen from streets away. Police Scotland said a high-volume water pump from the River Clyde had been put in place, resulting in closures on Broomielaw, Brown Street, Argyle Street, Douglas Street and Dalhousie Street. Roads around Sauchiehall Street also remain closed.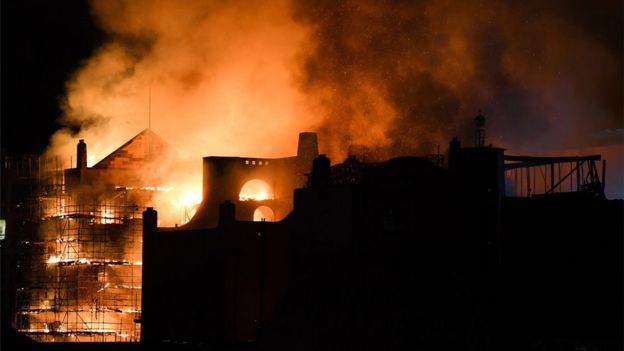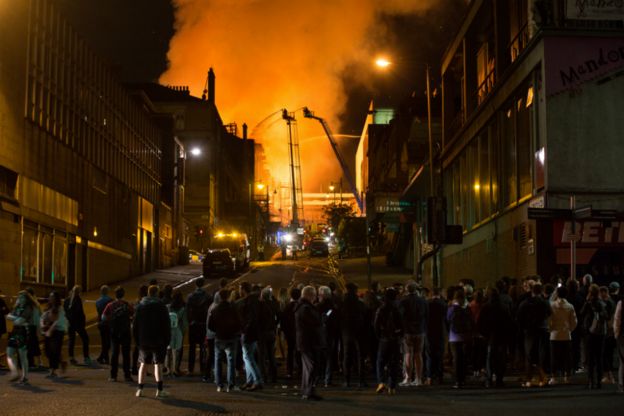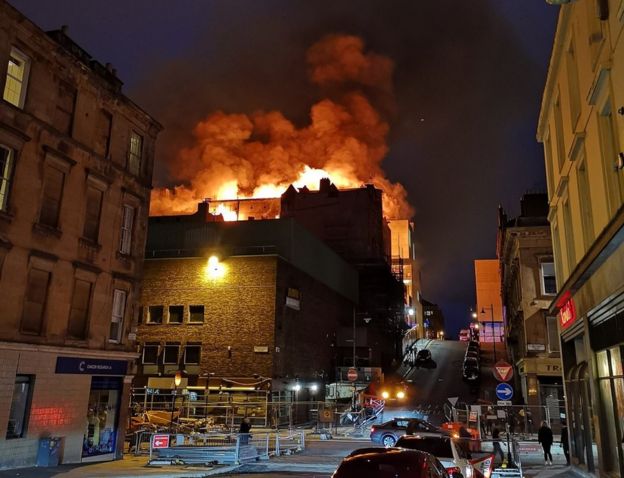 Glasgow North East MP Paul Sweeney described the building, designed by Charles Rennie Mackintosh, as "the most architecturally important building in Glasgow". The Labour politician said the restoration effort had suffered a "horrific setback" which he hoped would be overcome. "We cannot lose this building," he added. Mr Sweeney went on to say: "The 1909 library extension, that was the origin of the 2014 blaze, is now fully alight too. "It looks like the entire interior space is now fully alight. "The best we can probably hope for is structural facade retention and a complete rebuild of the interior. Devastating."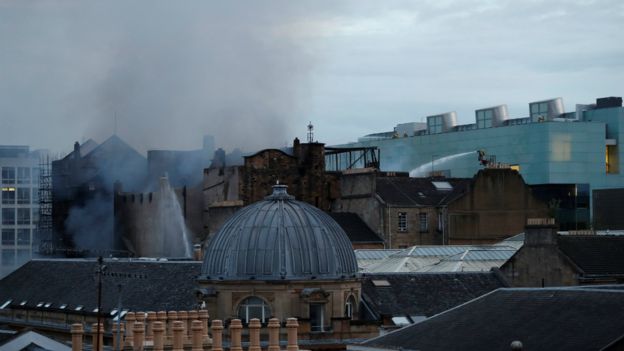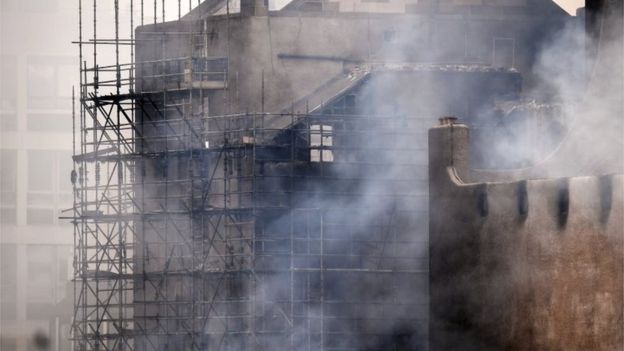 In a tweet, Scottish First Minister Nicola Sturgeon said: "This is clearly an extremely serious situation. "My first thoughts tonight are for the safety of people – but my heart also breaks for Glasgow's beloved @GSofA. "Once again, we are indebted to the bravery of our firefighters and other emergency services." Secretary of State for Scotland David Mundell, who had visited the building only two weeks ago said he was "devastated". He said the government "stands ready to help, financially or otherwise". The Mackintosh building was completed in 1909 based on designs by Charles Rennie Mackintosh, Scotland's most-lauded designer. It has been described as "a working art school as well as a work of art", and has an A-list rating from Historic Scotland. In recent years, the school has produced many of the UK's leading contemporary artists such as Douglas Gordon, Alison Watt, David Shrigley, and three recent Turner Prize winners: Simon Starling in 2005, Richard Wright in 2009 and Martin Boyce in 2011. Other former students include actors Robbie Coltrane and Peter Capaldi, and artist Peter Howson. The fire in 2014, caused by a faulty projector, destroyed the building's library, which was recognised as being one of the finest examples of art nouveau in the world.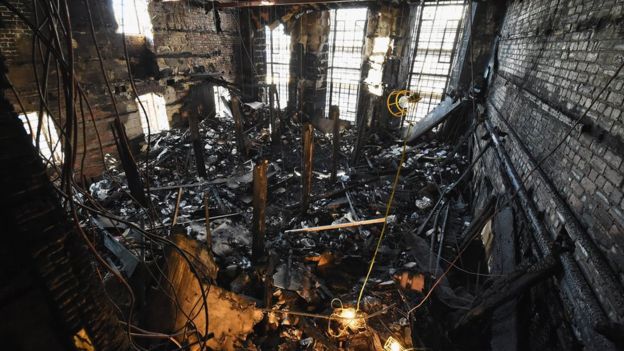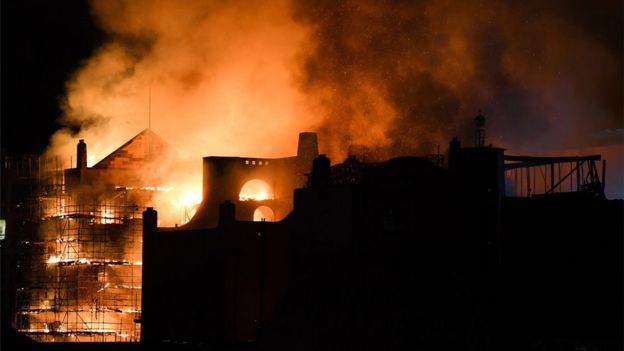 ]]>