<![CDATA[[caption id="attachment_46295" align="aligncenter" width="565"]
GETTY IMAGES[/caption]
Seven arrests have been made in raids following the Westminster attack that left four dead, police have said.
Acting Deputy Commissioner and Head of Counter Terrorism Mark Rowley said hundreds of detectives have worked through the night, carrying out searches at six addresses. Those who died were a woman in her 40s, a man in his 50s, PC Keith Palmer and the attacker, he said. Seven of the injured are still in hospital in a critical condition. A further 29 had been treated in hospital, Mr Rowley added. In the attack on Wednesday, a man drove a car along a pavement in Westminster knocking down pedestrians, leaving dozens injured. He then stabbed a policeman and was shot dead by police in the grounds of Parliament. In a statement made outside Scotland Yard, Mr Rowley said: "The inquiries in Birmingham, London and other parts of the country are continuing. "It is still our belief – which continues to be borne out by our investigation – that this attacker acted alone and was inspired by international terrorism. "To be explicit, at this stage we have no specific information about further threats to the public."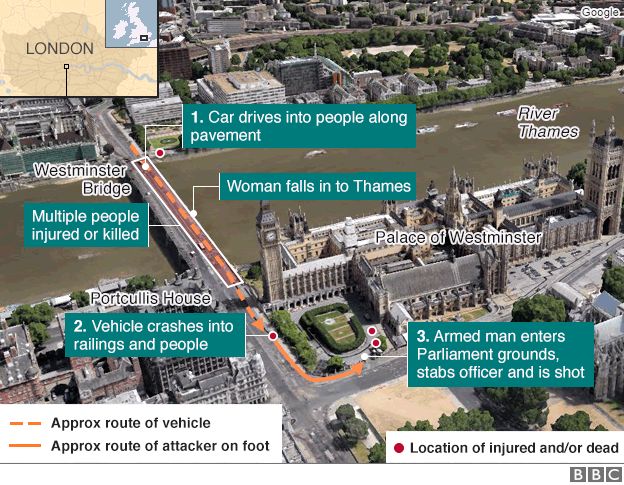 He said he would not name the bridge victims yet, who were "a mix of nationalities", and urged journalists not to publish the attacker's name while searches were continuing. He said Londoners should expect to see more police officers on the streets, after officers' leave had been cancelled and duty hours extended. It was initially thought that three members of the public had been killed on Westminster Bridge, but Mr Rowley referred to just two in his statement. In other developments:
A witness told the Press Association that three men were arrested in an armed raid on a Birmingham address. The BBC understands this is linked to the London attack
There is an unconfirmed suggestion that the car used in the attack was hired from an address in Birmingham, BBC Newsnight says
Security at Parliament will be reviewed, says Defence Secretary Sir Michael Fallon
The Cabinet Office says it will observe a one-minute silence at 9.33 am to pay respect to the victims
The flag over the Houses of Parliament is flying at half mast
Parliament will sit, as normal, later
People worried about family and friends can call the police casualty bureau on: 0800 056 0944 or 0207 158 0010. Anyone with images or footage of the incident can send them to ukpoliceimageappeal.co.uk
Defence Secretary Sir Michael Fallon told BBC Radio 4's Today programme the "working assumption" was that the attack was linked to "Islamic terrorism in some form". He paid tribute to Pc Palmer, a 48-year-old father and husband, and an unarmed member of the Parliamentary and Diplomatic Protection Squad who had served for 15 years. Pc Palmer stopped the attacker getting into Parliament and "gave his life for the democracy we all cherish", he told BBC Breakfast. Asked about the mood of the city, Sir Michael said: "London is getting back to normal. They've seen terrorism like this before and they are not going to let it triumph."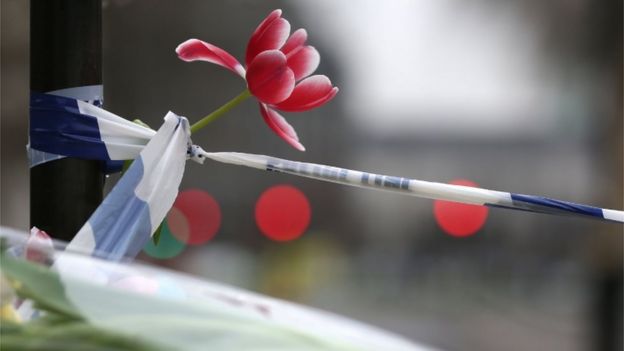 Brendan Cox, the husband of murdered MP Jo Cox, said it was important to remember that "this was a story about people who didn't come home yesterday". Prime Minister Theresa May, who will make a statement shortly, said the attack was a "sick and depraved" attack on the heart of the capital, and such attempts to defeat UK values were "doomed to failure".
US President Donald Trump
was among world leaders to offer their support, tweeting: "Spoke to UK Prime Minister Theresa May today to offer condolences on the terrorist attack in London. She is strong and doing very well."
By Dominic Casciani, home affairs correspondent
The carnage on Westminster Bridge and inside the grounds of Parliament is the attack that security chiefs here in the UK have long been preparing for. Terrorism looks not just to kill and maim – but to create panic and such a sense of disorder that it rocks a city or nation to its foundations. And this attacker sought to do so in as low-tech way as is possible. The days when terrorism meant large, complex bombs and months of planning are gone: Western security agencies – particularly MI5 and its partner agencies – are very, very good at identifying those plots and disrupting them. The longer it takes to plan such an attack, the more people who are involved, the more chances there will be for security services to learn what is going on.
Source: BBC
]]>