The centrist Emmanuel Macron and far-right leader Marine Le Pen have won the first round of voting in French presidential elections, projected results say.
Mr Macron won 23.7%, while Ms Le Pen won 21.7%, French TV says.
The two saw off a strong challenge from centre-right François Fillon and the hard-left Jean-Luc Mélenchon, according to the projections.
The pair now face a run-off vote on 7 May.
Whoever wins the next round, the voting marks a shift away from the leftist and centre-right parties that have long dominated French politics.
Ms Le Pen leads the eurosceptic, anti-immigrant National Front party. She has attempted to soften the party's tone and brought big gains in the 2015 regional elections.
She has urged a shake-up of France's relations with the EU, calling for negotiations followed by a referendum.
Mr Macron served as economy minister under current President Francois Hollande. Despite his relative inexperience – he has never served as an MP – polls see him defeating Ms Le Pen in the second round.
He told the AFP news agency "a new page in French politics is being turned" as the results emerged.
Mr Macron is also likely to attract support from the political establishment.
Defeated rival François Fillon has already endorsed him.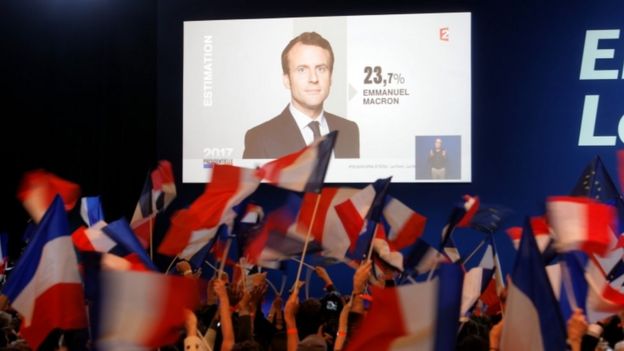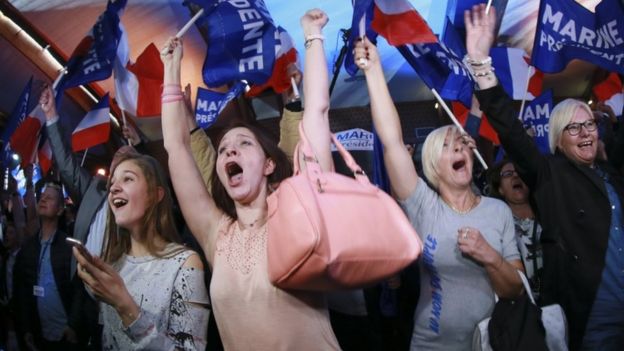 In other projections:
Jean-Luc Mélenchon, whose popularity surged on the back of strong debate performances, is tipped to win around 19.5% of the vote
François Fillon, whose campaign was rocked by corruption allegations, is on the same mark
Benoit Hamon of President Hollande's Socialist party lags far behind on 6%
Turnout nationally appears to be similar to the last election in 2012.
Nearly 60,000 police and soldiers were deployed across the country to secure polling, with France still reeling from the shooting of a policeman on the Champs Elysees.
Source: BBC