<![CDATA[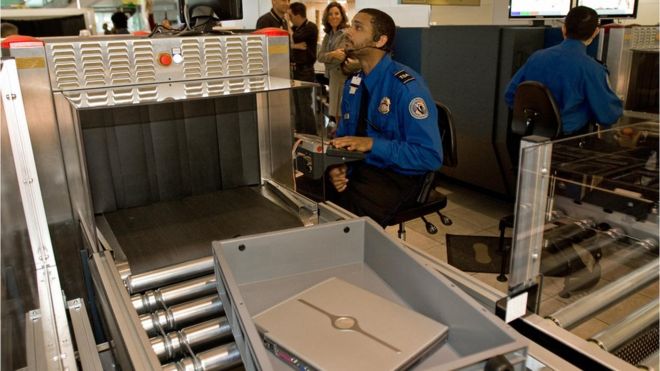 The US has announced a ban on large electronic devices from cabin baggage on passenger flights from eight Muslim majority countries.
The Department of Homeland Security (DHS) said extremists were seeking "innovative methods" to bring down jets. Bombs could be hidden in laptops, tablets, cameras, DVD players and electronic games, it said. The measure will affect nine airlines operating out of 10 airports. Large electronic devices will only be allowed on board in checked baggage. Phones are exempt from the new rules. The nine airlines affected are:
Royal Jordanian
Egypt Air
Turkish Airlines
Saudi Arabian Airlines
Kuwait Airways
Royal Air Maroc
Qatar Airways
Emirates
Etihad Airways
US officials said the airlines had been given 96 hours, beginning at 07:00 GMT on Tuesday, to ban devices bigger than a mobile phone or smartphone from cabins. They said the ban had no end date. The airports affected are:
Queen Alia International, Amman, Jordan
Cairo International Airport, Egypt
Ataturk Airport, Istanbul, Turkey
King Abdulaziz International, Jeddah, Saudi Arabia
King Khalid International, Riyadh, Saudi Arabia
Kuwait International Airport
Mohammed V International, Casablanca, Morocco
Hamad International, Doha, Qatar
Dubai International, United Arab Emirates
Abu Dhabi International, United Arab Emirates
AFP news agency said passengers on some 50 flights a day from some of the busiest hubs in the Middle East, Turkey and North Africa would be required to follow the new rules. In a statement, the DHS said: "The US government is concerned about terrorists' ongoing interest in targeting commercial aviation, including transportation hubs over the past two years, as evidenced by the 2015 airliner downing in Egypt; the 2016 attempted airliner downing in Somalia; and the 2016 armed attacks against airports in Brussels and Istanbul. "Evaluated intelligence indicates that terrorist groups continue to target commercial aviation, to include smuggling explosive devices in various consumer items."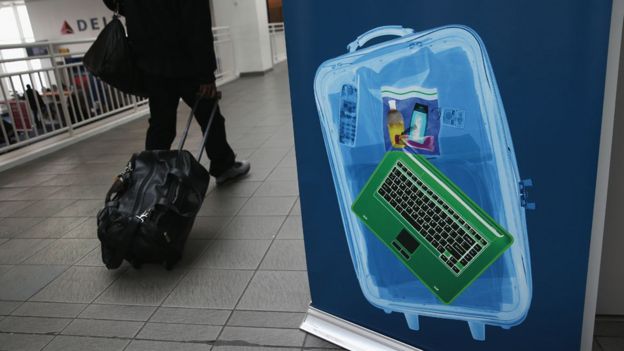 Homeland Security Secretary John Kelly called members of Congress over the weekend to explain the security issues behind the ban, congressional aides said. The restrictions are said to have been under consideration for several weeks.
---
A matter of trust – James Cook, BBC North America correspondent
In February 2016 an aircraft operated by the Dubai-based carrier Daallo was damaged by an explosion shortly after take-off from the Somali capital, Mogadishu. Investigators said a passenger who was sucked out of the plane had been carrying a laptop bomb. The pilot managed to land and the alleged bomber was the only fatality. Had the device gone off at cruising altitude, the plane would almost certainly have been destroyed. The Islamist militant group al-Shabab, which is linked to al-Qaeda, claimed that it was behind the attack. The possibility of further such attacks is apparently what is now concerning American spies. But, as ever with matters of intelligence, officials are reluctant to go into detail about exactly why the ban is being proposed. That means travellers are being asked to trust the US government when it says that this inconvenience is vital for their own safety. At present, trust is a commodity which is in very short supply. Source: BBC ]]>