<![CDATA[
A gunman has opened fire on a busy avenue in Toronto, killing a young woman and injuring 13 other people, one of them critically, police say.
The victim critically injured in the Canadian city's Greektown district is a girl of eight or nine, they add. The gunman is dead, reportedly killed in an exchange of shots. The attack erupted on Danforth Avenue on Sunday evening, when the area was teeming with people, Canada's Globe and Mail newspaper reports. The motive for the shooting, which reportedly targeted at least two cafes or restaurants, is still unclear. In a video clip shared by Canadian media, a white man wearing a dark cap and dark clothing and carrying a shoulder bag can be seen stopping on a pavement and pulling out a handgun before firing shots. Some of the victims were treated at the scene, while others were taken to local hospitals. Police are appealing for witnesses.
Toronto Police Homicide are lead investigators in Danforth Av shooting.14 victims shot. 1 female died. Young girl is critical. Witnesses call police directly during night Sunday-Monday at 416-808-5504. Daytime Homicide 416-808-7400. Anonymous tips 1-800-222-8477 #GO1341286

— Homicide Squad (@TPSHomicide) July 23, 2018
Toronto Mayor John Tory condemned the "despicable" attack on "people innocently enjoying a Sunday evening". The premier of the province of Ontario, Doug Ford, tweeted a
message
of support to the victims of the attack.
My heart goes out to the victims and loved ones of the horrific act of gun violence in Toronto. Thank you to all the first responders for acting quickly to help everyone affected.

— Doug Ford (@fordnation) July 23, 2018
Gun violence is much rarer in Canada than over the border in the US, but Toronto has seen attacks increase dramatically in recent years.
What happened?
Emergency services were called out just after 22:00 (02:00 GMT Monday) to the scene, 
a piazza with a fountain that is popular with local people and was busy at the time, the Globe and Mail writes. A number of people were reportedly hurt in a cafe called the Demetres.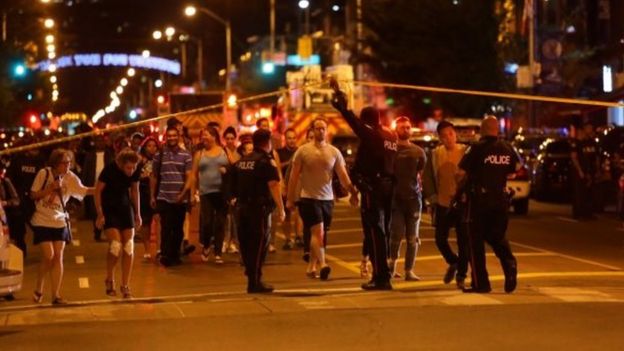 Eyewitnesses say they heard volleys of shots, with pauses in between. "It would shoot, there'd be a pause, we heard more shooting, and then a pause and then more shooting," John Tulloch, who was walking on the avenue with his brother at the time, told the paper. "There must've been 20, 30 shots, altogether. It was a lot. We just ran. People weren't yelling but I think everyone was concerned," he added. "It just seemed very surreal, almost like it wasn't really happening. But everyone was sort of moving and going away. It was hard to believe it was real."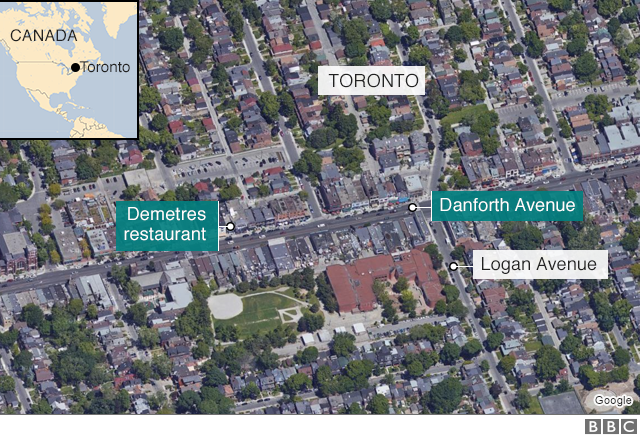 A driver, Jim Melis, told the paper that a white man wearing a black cap and a bandana had fired shots through a cafe window. The gunman had run out in front of his car, crossing the street, before pulling out his gun, he said. Jody Steinhauer told CBC News she had been with her family in a restaurant in the area when she heard what sounded like 10 to 15 blasts of firecrackers. "We started to hear people scream out front," she said. Paramedics could be seen performing CPR on the injured around the piazza afterwards, the Globe and Mail reports.
What do we know of the attacker?
Toronto police confirmed the gunman had been killed but gave no other details. Mayor Tory appealed for people not to draw any conclusions before there was further information from the police. Jessica Young, an employee at the Second Cup cafe, said she had seen the gunman's face before he fired through the window.
"I look to my side and see the shooter through the window,"
 she was quoted as saying by the Toronto Star newspaper. "He sees me, or he sees my co-worker or someone, and points the gun and shoots through the window. He was probably no taller than me, wearing a black baseball cap, dark clothes. He had light skin. I think he had short facial hair. That's all I could make out." Nobody was hurt in her cafe, she added.
Is Toronto known for gun violence?
Mayor Tory said the attack was "evidence of a gun problem" in the city. "Guns are too readily available to too many people," he told reporters.]]>