For years Wang Mingqing handed out leaflets appealing for information about his missing daughter photo: CFP[/caption]
A Chinese father has been reunited with his daughter after looking for her for 24 years.
Wang Mingqing's tireless search included becoming a taxi driver in Chengdu city, in the hope he might one day pick her up as a passenger. His daughter made contact with him earlier this year after coming across an online post about him. The incredible story has swept
China
, where many are celebrating the reunion. The pair met on Tuesday. Mr Wang's daughter Qifeng disappeared when she was just three years old, according to interviews he gave to Chinese media outlets. He and his wife were fruit sellers, and one day after they finished serving customers at their roadside stall, they realised Qifeng was no longer by their side. They spent years searching for her in the city and surrounding areas, taking out advertisements in newspapers and setting up online appeals. The couple, who had another daughter, never left Chengdu, in the hopes that Qifeng would find her way back to them. In 2015, Mr Wang decided to broaden the search by signing up as a driver with ride-hailing company Didi Chuxing. He put up a large sign appealing for information on his rear window, and also gave out cards with information about Qifeng to every passenger he ferried. Mr Wang did not have a picture of Qifeng as a toddler so he used a picture of his other daughter in his leaflets, as they looked similar. His unique method gained attention from the Chinese media. "One day, my daughter may just be the person sitting in my
car
!" he was quoted as saying.
Reunited at last
Over the years Chinese police identified several
women
who could have been Qifeng, but DNA tests showed they were not his daughter. But a breakthrough finally came late last year, when a police sketch artist read about Mr Wang and decided to help by producing a drawing of what Qifeng might look like as an adult. The picture was circulated online. Thousands of kilometres away, on the other side of the country, a woman called Kang Ying saw the picture – and was shocked by how much it resembled her.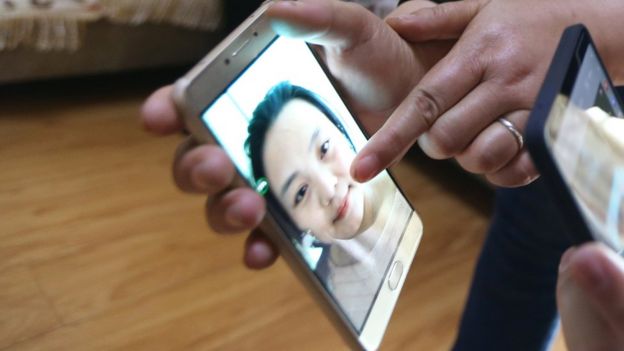 She contacted Mr Wang earlier this year, and found that she shared some unusual traits with his missing daughter, including a small scar on her forehead and a tendency to get nauseous whenever she cried. They quickly arranged for a DNA test. This time, the result was positive – Mr Wang had finally found his long-lost child. On Tuesday, the pair were reunited in person when Kang Ying, who lives in northern Jilin province, flew to Chengdu. "I can't tell you how much hope, disappointment and despair we have gone through these past 24 years. Now we can finally meet again," Mr Wang was quoted as saying in the Beijing
Youth
Daily newspaper.
Chinese reports say that Kang Ying had been raised in a nearby town just 20km (12 miles) from her parents, but did not give details on how she ended up separated from them.
Source: BBC