Chelsea inflicted Manchester City's first Premier League defeat of the season as the champions were knocked off the top of the table by Liverpool.
Maurizio Sarri's side bounced back from the disappointment of losing at Wolves in midweek to end City's 21-game unbeaten league run stretching back to April, and a sequence of 14 unbeaten games away from home.
City paid for a lack of ruthlessness as they dominated the first half completely, only to be struck by a Chelsea smash-and-grab right on half-time as N'Golo Kante fired high past Ederson from Eden Hazard's pass.
Chelsea gained confidence and momentum and improved after the break, securing the win with 12 minutes left when David Luiz's glancing header following a corner bounced in off the far post.
They closed out the win to give Sarri his first triumph over Pep Guardiola and leave Liverpool top by one point following their convincing 4-0 win at Bournemouth earlier.
City pay for lacking killer touch
City's multi-talented squad can cover almost all eventualities, but this was a game in which they sorely missed the marksmanship of the injured Sergio Aguero, and also Kevin de Bruyne's creation.
Guardiola's side were on another level to Chelsea for the first 44 minutes but when chances presented themselves, as they did to both Raheem Sterling and Leroy Sane, there was either hesitation or an inability to provide the final product that proved crucial.
This is not a criticism of either Sterling or Sane but there was a lingering feeling that had the same opportunities to the predatory Aguero, the outcome would have been different.
City could not recover from Kante's sucker punch and it was Chelsea who were the more dangerous side in the second half.
Guardiola's men must now regroup after a defeat that will be a major disappointment but one hardly likely to set City back for too long.
Kante proves Sarri's point
Kante's outstanding performance, including the opening goal, was vindication for Sarri's decision to play him in a new role this season.
Sarri has been questioned for his decision to use Jorginho as the hub of his team while pushing Kante into a more advanced role out on the right. Why have the player many regard as the finest holding midfield player in world football and not utilise him there?
Sarri has stuck to his guns and this was a game – and performance by Kante – that added significant weight to his argument.
The France World Cup winner was magnificent, typically tireless but also getting into forward positions, most decisively when he arrived on the end of Hazard's inviting pass to power a finish past Ederson that gave the Brazilian no chance.
It is certainly not the end of the argument, but evidence Sarri can use that he is coming up with the right formula for Chelsea.
This was a vital, some might say unexpected, win for Chelsea given their indifferent recent form, and they certainly lived on their nerves for the first 44 minutes as City's passing and mobility pulled them all over Stamford Bridge.
Man of the match – N'Golo Kante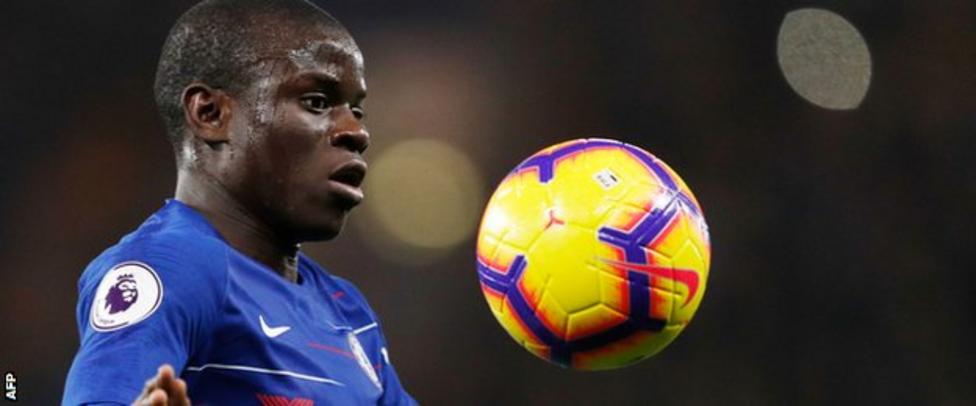 Chelsea boss Maurizio Sarri: "I am very happy with the win because it is not very easy to win against Manchester City or Pep Guardiola. I am happy with the mentality of the team in this match.
"It is difficult for us to find motivation but when we are [motivated], we are a very strong team. Today we played with a very good level of application, determination and the right level of aggressiveness.
"My players have to continue like this. We started well in the second half and in the end we deserved to win."
Manchester City manager Pep Guardiola: "Off day? We lost. If you think that, you didn't see the game. Chelsea are a good team, good players, but in the first half it was incredible, we were exceptional.
"In general, we were fantastic, I don't have any regrets. We came and showed we wanted to win. We created chances. They had one in 44 minutes and we conceded a goal, sometimes that happens.
"You are better, you create, they cannot play like they want. They are used to having 75% possession and they could not do that, but after that at this level and in the Champions League the quality of the opponents means they only need a half a chance to score. That was the reality."
Fortress Stamford Bridge – the stats
Chelsea are unbeaten in 12 Premier League games at Stamford Bridge (W7 D5), their longest run without a home league defeat since a 21-game streak ending in August 2015.
City suffered their first Premier League defeat in 22 games, since a 3-2 loss to Manchester United in April. They also conceded more than one goal in a Premier League game for the first time in 22 matches in the competition, since that derby defeat.
This was Sarri's first victory over Guardiola, ending a run of three defeats against the Spaniard in all competitions (W1 L3).
Guardiola has lost three leagues games against Chelsea, more than against any other side as a manager.
Kante's opening goal came from Chelsea's first shot of the match in the 45th minute, the longest they have had to wait for a shot in a league game at Stamford Bridge since 2006-07.
With four goal involvements in the Premier League this season in 16 games (2 goals, 2 assists), Kante has already equalled his combined goal and assist tallies from his previous two top-flight seasons with Chelsea (2 goals, 2 assists in 69 games).
Hazard has provided an assist in three consecutive Premier League games for the first time since December 2014.
Hazard has now assisted a league-high eight goals in the Premier League this season, which is double the tally he assisted in 34 apps last season (4).
What next?
Both teams play in Europe in midweek, completing groups from which they have already qualified. City host Hoffenheim in the Champions League on Wednesday and Chelsea have a Europa League trip to Vidi on Thursday.
In the Premier League, City's home game against Everton is next Saturday's 12:30 GMT kick-off, while Chelsea travel to Everton at 13:30 on Sunday.
BBC