Black man shot by Tulsa police unarmed
The head of police in Tulsa in the US state of Oklahoma says a black man shot dead by officers on Friday was unarmed.
Authorities are investigating the death of Terence Crutcher, 40, who had his hands in the air when he was shot next to his car, relatives say.
Tulsa Police Chief Chuck Jordan said "there was no gun on the suspect or in the suspect's vehicle" and promised justice would be achieved.
Police have released a dash cam recording of the shooting.
In the video, he is seen walking away from officers and toward his vehicle with his hands up before he approaches the door on the driver's side.
There he drops to the ground after being apparently tasered and then fatally shot.
He died later in hospital, police said.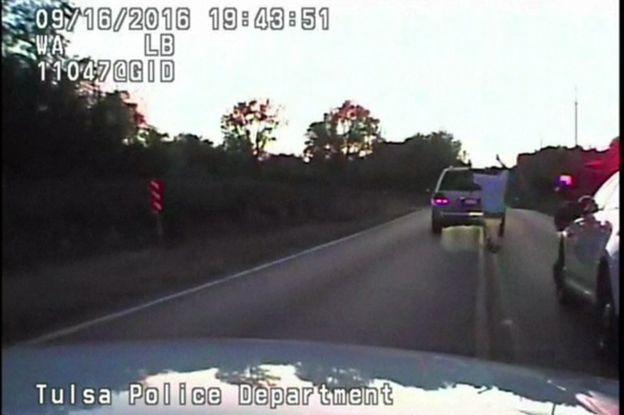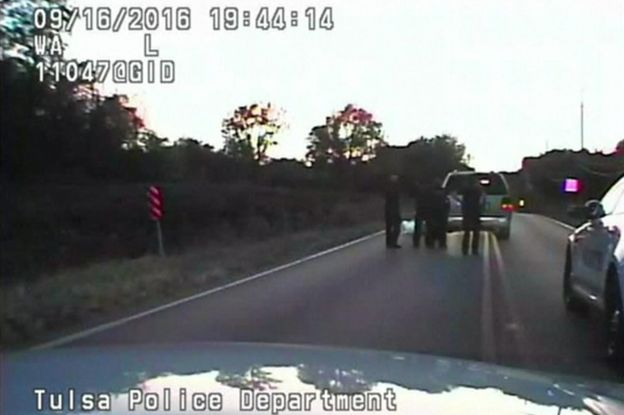 The video, as well as disturbing footage from a police helicopter, appears to back up his family's assertion that his hands were in the air at all times.
Officers came across Mr Crutcher's stalled vehicle while they were en route to another call, reports say.
Police said he refused to follow commands.
Mr Crutcher's twin sister Tiffany called for protests over his death to be peaceful, and demanded criminal charges be filed against the officer who fatally shot him.
A series of high-profile incidents involving African-Americans dying at the hands of police have led to demonstrations across the US.

Source: BBC