Leaving the European Union would threaten jobs and put the UK's economy at risk, leaders of some of Britain's biggest companies have said.
Bosses – including those of BT, Marks & Spencer and Vodafone – signed a letter published in the Times, saying an EU exit would deter investment in the UK.
Leave campaigners point out two-thirds of FTSE 100 firms, including Tesco and Sainsbury, did not back the letter.
A referendum on whether the UK should stay in the EU will be held on 23 June.
In a move described by No 10 as "unprecedented", chairmen or chief executives of 36 FTSE 100 companies signed the letter backing the campaign to stay in the EU, including Burberry, BAE Systems and EasyJet.
The FTSE bosses were among a total of 198 signatories from the business world, including the chief executives of Heathrow and Gatwick airports.
However, nearly two-thirds of the UK's largest publicly listed businesses did not sign and the BBC's economics editor Kamal Ahmed said there were some notable absentees among them, such as the bosses of Tesco, Sainsburys, RBS and Barclays.
---
Analysis by the BBC's assistant political editor Norman Smith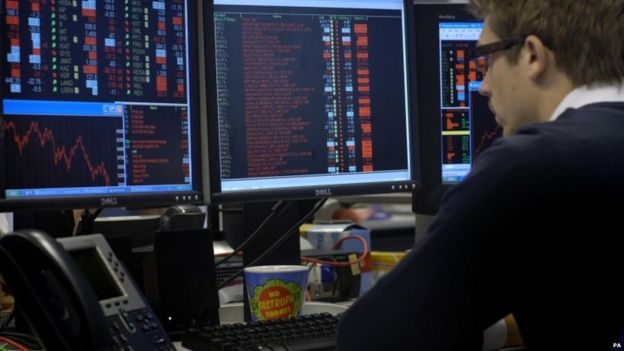 The letter by the bosses of some of Britain's biggest companies has been cited by Number 10 as evidence that business shares the prime minister's concerns over the risks involved in leaving the EU.
However, two thirds of FTSE 100 companies have not signed, with Leave campaigners insisting this demonstrates that business opinion is much more divided and that small business is much more sympathetic to their case.
There had been speculation up to half of FTSE 100 companies could be poised to support the prime minister. Number 10 deny any disappointment at the number – arguing that major companies often have to follow lengthy procedures before publicly endorsing a political campaign.
Meanwhile Mr Cameron will today begin the first of a series of national tour days, with a visit to Berkshire to sell his message to voters. The move is designed to reach beyond Westminster and the emerging divisions with the Tory Party.
Number 10 this morning sought to play down warnings of potential civil war inside the party. A source said: "There's no reason this can't be done in a civil way."
However, writing in the Daily Telegraph, the former Tory leader William Hague warns the divisions over Europe could "open wounds that take a generation to heal".
---
He also pointed out that Brexit campaigners claim smaller businesses are "much more sceptical" about the advantages of staying in the EU.
The letter – organised by the Britain Stronger in Europe campaign and Downing Street – said the PM had secured a commitment from the EU "to reduce the burden of regulation, deepen the single market and to sign-off crucial international trade deals".
They wrote: "Business needs unrestricted access to the European market of 500 million people in order to continue to grow, invest and create jobs."
"Britain will be strong, safer and better off remaining a member of the EU," they added.
John Holland-Kaye, the chief executive of Heathrow airport, denied he had been pressurised into signing the letter, saying his company wanted to get the message across that the EU had "opened up the aviation market and reduced the cost of flying".
"Lower costs of flying mean we can go on holiday more easily, we can go on business more easily – so whether you are going on a stag night or exporting there is a real benefit of being part of the EU," he told the BBC News Channel.
'Bullying'
But Richard Tice, co-founder of Leave.EU, said Downing Street had admitted using taxpayers' money and "applying pressure" on FTSE chairmen and chief executives to sign the letter.
"The truth is that despite the bullying of a prime minister who has no real business experience, it is other normal commercial factors which will determine the continued success of British businesses to invest and grow," he said.
And Vote Leave, another group campaigning for EU exit said it was "disappointing to see the prime minister resorting so quickly to trying to scare people into voting for his deal".
Meanwhile, senior figures from both sides of the debate will begin their campaigning ahead of the referendum on 23 June.
Former Labour home secretary Alan Johnson is due to warn that two thirds of British jobs in manufacturing depend on demand from Europe and leaving could put up to 50,000 apprenticeships at risk while the chairman of Vote Leave,Conservative peer Lord Lawson, is expected to set out the economic case for leaving in a speech at Chatham House.
'Punchy campaign'
Mr Cameron has said he will travel to all parts of the UK to make his pro-EU case in what he has said will be a "punchy" campaign.
Sources say they believe Mr Cameron's key arguments on jobs, prosperity and national security will resonate more with voters, who are less interested in the detail of his European deal.
Divisions in the Conservative Party were laid bare during a debate in Parliament on Monday, when a succession of Tory MPs questioned the substance of the PM's agreement with EU leaders – announced on Friday.
More than 100 Conservative MPs want to leave the EU – including five full cabinet ministers and Mayor of London Boris Johnson.
Mr Johnson asked how the deal negotiated would "in any way" return sovereignty to the UK, while Tory backbencher Jacob Rees-Mogg said the EU was a "failed" body and the UK should "make our own path".
According to BBC research, 142 Tory MPs will campaign to remain in the EU, 120 to leave, while 68 have yet to make their positions clear.
The overwhelming majority of Labour MPs back continued EU membership as do the SNP, Plaid Cymru and the Liberal Democrats but the Democratic Unionists and UKIP are opposed.
Source: BBC