My name is Herbert Mensah and I am making an appeal to you for a small contribution of 10 dollars, or any amount, to Ghana Rugby.
Why am I making this appeal.
To make a long story short, I am the President of Ghana Rugby.
On May 10th this year, my wife screamed out, "You've made it! Ghana Rugby is now a  Full Member of World Rugby!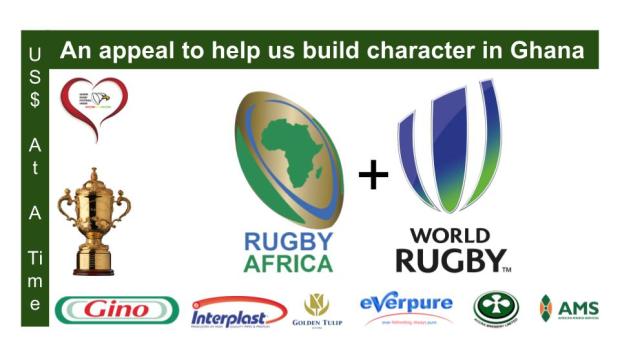 What is the big deal?
This apparently, is a very BIG DEAL! On June 5th, 2014 I was elected President of Ghana Rugby. My administration and I took over the management of Ghana Rugby who, after 11 years, had nothing to show for themselves.
When I told my group that I intended to do "something" with this "nothing" I said to them, "We will play in the Rugby World Cup sooner rather than later."
They thought I was crazy or something…
In less than three years we achieved what nobody in the history of Rugby (I have been led to believe) has ever done and that was to take Ghana Rugby from nothing to Full Membership of World Rugby in record time!
When I look at what Ghana Rugby has achieved in less than three years, the header image on our website of three young boys having the time of their lives playing with a rugby ball on a Ghanaian beach comes up time-and-again.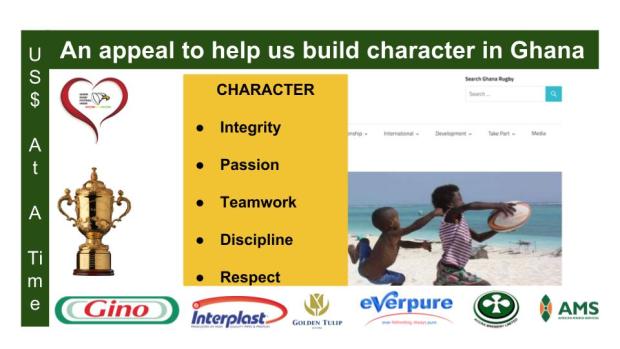 I have on more than one occasion in public stated that what we are busy with is NOT about boys and girls running around on a pitch with an oval ball but about building character.
To us, Rugby is about embedding the values of Integrity, Passion, Teamwork, Discipline and Respect into the very fabric of society through the kids in Ghana. Sports careers end at some stage but once equipped with these values, the Ghanaian will be more than ready to enter life after Rugby as responsible contributing citizens able to help build a better world.
What will Ghana Rugby do with your highly valued contribution?
It will be invested firstly in our youth development programme that is mostly based on the World Rugby "Get Into Rugby" (GIR) programme and for that, we need GIR kits and we need development officers.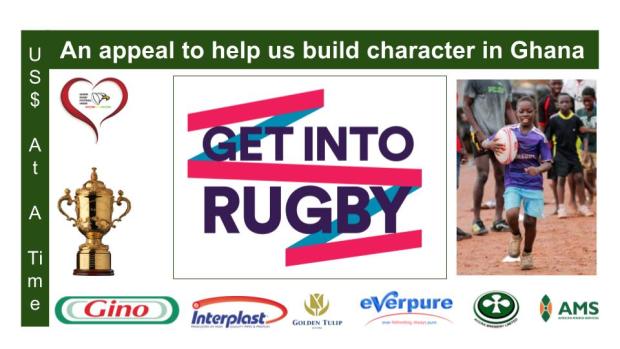 Your minimum contribution will, at the very least, buy one Rugby ball. Ghana Rugby needs at least 5,000… Then there are whistles, pumps, cones, bibs, etc
Secondly, we need funds for Women's Rugby development – an area that is very dear to me.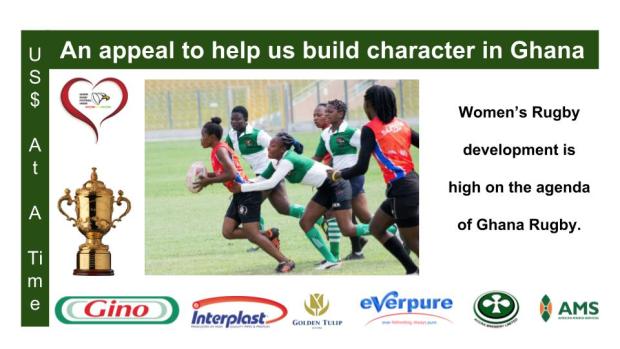 The needs, of course, do not stop there. There are domestic and international competitions to organise and tournaments to fund. Ultimately to do this, we need to take our proud Ghana Eagles – the national team of Ghana Rugby – to peak performance to get a chance at a shot for the Rugby World Cup tournament!
I, therefore, appeal to you again to make that invaluable contribution of at least $10 or whatever amount you are prepared to give to help Ghana Rugby! After all, it is less than what a starter in a moderate restaurant will cost you!
Let's join hands in helping Ghana Rugby build a nation of youth with impeccable character.
The world needs it. Ghana Rugby needs you to play your part in bringing that to the world.
Let's do it today. Let's do it now. Just go to the top of the page and donate!
Thank you.
PS
Rian Malan is a Director of Ghana Rugby and authorised to collect contributions on Ghana Rugby's behalf.
Ghana Rugby Website
Ghana Rugby Facebook Group