<![CDATA[[caption id="attachment_62039" align="aligncenter" width="565"]
Three people were reported to have been rescued at the Enrique Rébsamen school overnight but many are feared trapped Photo: GETTY IMAGES[/caption]
A strong earthquake has struck central Mexico, killing more than 200 people and toppling dozens of buildings in the capital, Mexico City.
President Enrique Peña Nieto said more than 20 children had died and 30 were missing after a school collapsed. The 7.1 magnitude quake also caused major damage in neighbouring states. The tremor struck shortly after many people had taken part in an earthquake drill, exactly 32 years after a quake killed thousands in Mexico City. The country is prone to earthquakes and earlier this month an 
8.1 magnitude tremor
 in the south left at least 90 people dead. Though it struck a similar region, Tuesday's earthquake does not appear to be connected with the quake on 7 September, which was more than 30 times more energetic, the BBC's Jonathan Amos 
writes
.
Where was worst hit?
The epicentre of the latest quake was near Atencingo in Puebla state, about 120km (75 miles) from Mexico City, with a depth of 51km, the US Geological Survey said. The prolonged tremor hit at 13:14 local time (18:14 GMT) and sent thousands of residents into the streets. An earlier death toll of nearly 250 was lowered to 217 by the country's national co-ordinator for civil protection:
Morelos state: 71 dead
Puebla state: 43 dead
Mexico City: 86 dead
Mexico state: 12 dead
Guerrero: 4 dead
Oaxaca: 1
President Peña Nieto said more than 20 children and two adults had been found dead at the collapsed Enrique Rébsamen elementary school in Mexico City's southern Coapa district. He said another 30 children and eight adults were missing.
What about survivors?
Emergency workers, aided by military personnel and volunteers, have been working through the night in the search for people trapped under the rubble of collapsed buildings. At the Enrique Rébsamen school, three people were rescued at about midnight, Reuters news agency reports, adding that one child trapped under the debris was saved after oxygen was supplied through a tube. Mexico's Secretariat of Public Education (SEP) reported that at least 209 schools had been affected by the quake, 15 of which have suffered severe damage. Mexico City Mayor Miguel Angel Mancera told TV network Televisa that buildings at 44 locations had collapsed or were badly damaged. These are said to include a six-storey blocks of flats, a supermarket and a factory.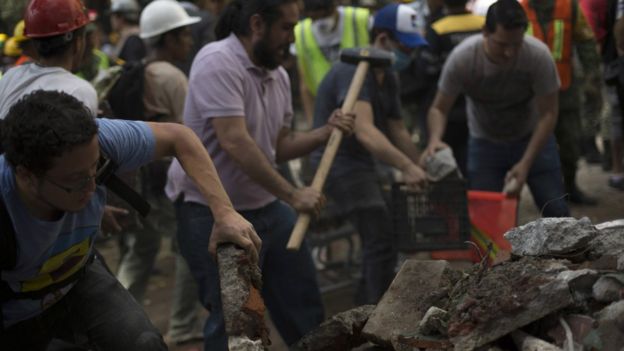 About two million people in the capital were left without electricity and phone lines were down. Officials warned residents not to smoke on the streets as gas mains could have been ruptured. Mexico's Federal Electricity Commission later said that 70% of the electricity supply which had gone down had been restored. In a televised address, the president said an emergency had been declared for the affected areas and the military had been drafted in to help with the response. He also urged residents whose properties were structurally sound to remain in their homes where possible to allow emergency services and those helping with rescue efforts to clear the streets. Across Mexico City, teams of rescue workers and volunteers clawed through the rubble with picks, shovels and their bare hands.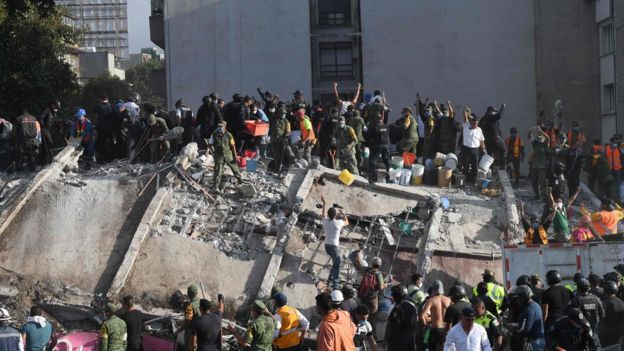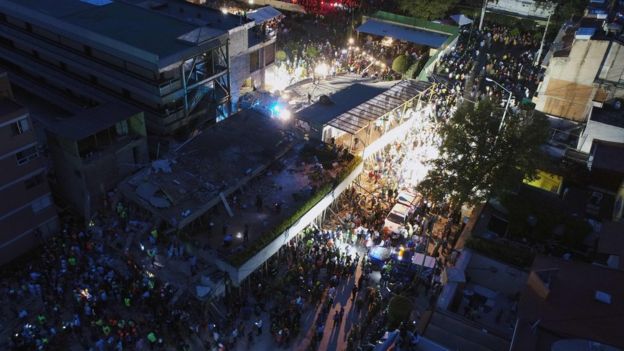 "My wife is there. I haven't been able to communicate with her," said Juan Jesus Garcia, 33, choking back tears next to a collapsed building. "She is not answering and now they are telling us we have to turn off our mobile phones because there is a gas leak."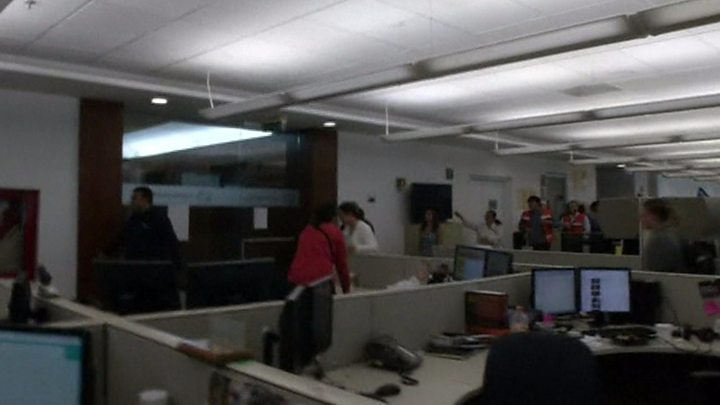 Jennifer Swaddle, a teacher at the British International School in Mexico City, told the BBC that part of her classroom collapsed after the earthquake hit. "As we were leaving, the outside of my classroom wall fell, so there was a big pile of rubble. Luckily, fantastically, nobody was hurt, but it was incredibly frightening," she said.
---
What happened in 1985?
An earthquake drill was being held in Mexico City on Tuesday to mark the 32nd anniversary of a magnitude 8 quake that killed up to 10,000 people and left 30,000 others injured. The severe tremor caused serious damage to Mexico City and its surrounding areas, with more than 400 buildings collapsed and thousands more damaged. Correspondents say that residents may have mistaken earthquake alarms for part of the day of drills in the wake of the 1985 quake. Mexico City is one of the most densely populated cities in the world, with more than 20 million people living in the metropolitan area.
---
Why is Mexico so prone to earthquakes?
Mexico is one of the most seismically active regions in the world, sitting on top of three of the Earth's largest tectonic plates – the North American, Cocos and Pacific plates. The latest tremor occurred near the boundary between the North American and Cocos plates, where the latter slides beneath the former. According to the 
US Geological Survey
, the country has seen 19 earthquakes of at least 6.5 magnitude within 155 miles of the epicentre of Tuesday's quake over the past century. A stronger earthquake (8.1) on 8 September is not thought to be linked to Tuesday's as the epicentres lie about 400 miles apart and it is unusual for an aftershock to appear so long after a major quake.
---
What has the reaction been?
Alfredo del Mazo Maza, governor of the State of Mexico, said schools would be closed on Wednesday. He also ordered all public transport to operate services for free so that people could travel home. Foreign leaders sent messages of support to Mexico as the scale of the disaster became clear.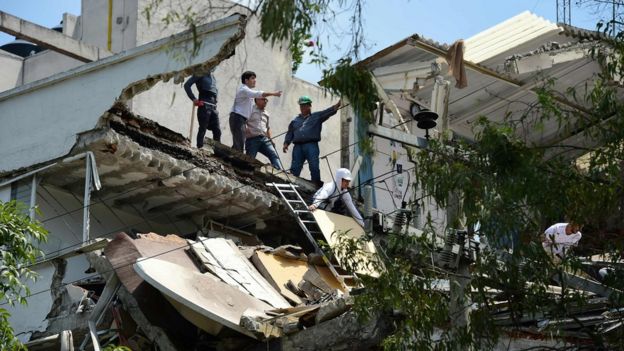 US President Donald Trump
, who has courted controversy with his plans for a border wall with Mexico, tweeted: "God bless the people of Mexico City. We are with you and will be there for you." Canadian Prime Minister Justin Trudeau also tweeted his support following the "devastating news". Costa Rican President Luis Guillermo Solis, in New York for the UN General Assembly, expressed his "solidarity" with the Mexican people. Pope Francis later said that his thoughts and prayers were with the families of those who had lost loved ones in the "devastating" quake. "In this moment of pain I want to express my closeness and my prayer to all of the beloved Mexican population," the pontiff said while addressing an audience at the Vatican. The UK Foreign Office has 
said
 that those travelling to Mexico should follow the advice of the local authorities. The Mexican government earlier issued the following guidance on what to do if a quake strikes in the country:
stay calm
find the evacuation route and meeting point
stay away from windows and objects that may fall
in case of emergency call 911
do not use lifts
Source: BBC
]]>